This spectacular holiday home is happily situated on a remote rural block outside Clayton Bay on the edge of Lake Alexandrina. Designed by Leon Meyer Architect, this is the seventh major project Duthy Homes have constructed for Peter and Sandie Eblen. Duthy Homes have established a great relationship with the clients which has resulted in a collaborative approach to the building process, offering flexibility to 'build as they go' and make alterations during construction.
Some key design features of the custom home include large open plan living areas opening off a central blade wall. The skillion roof is striking amongst the relatively flat bare landscape, yet it blends beautifully alongside the lake edge. The use of zincalume corrugated cladding for a majority of the exterior was not only a cost effective solution but provides interest and texture throughout the changing levels of daylight. The finishes are both sleek and rustic to give the home a relaxed holiday feel yet still modern and relatively low maintenance.
The home can be enjoyed from every aspect, both inside and out which demonstrates both the success of the design and the execution of the development. See more of the custom homes and home renovations Adelaide locals love to admire, and speak to a custom home builder at Duthy Homes today.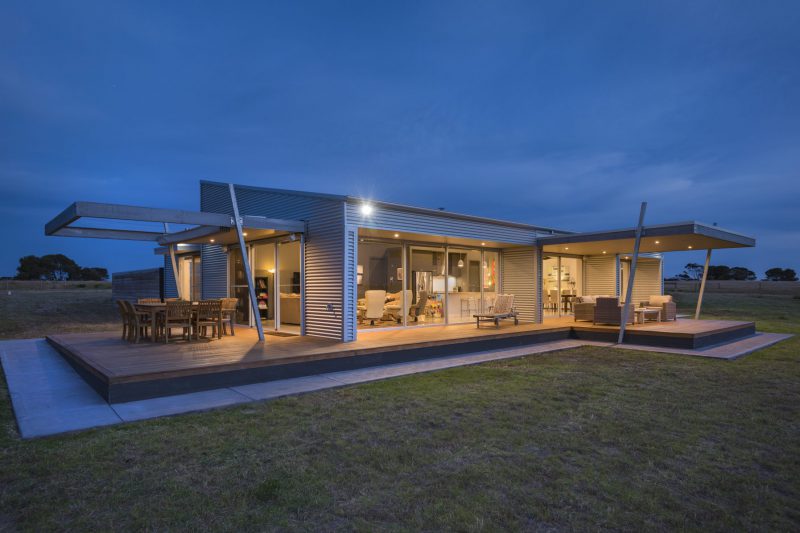 Testimonial
Duthy Homes took on the challenge of this remote site to build us a visually stunning and unique riverside holiday home. Chris listened to our additional special requests and took them in his stride, always responding with a positive solution.
- Sandie and Peter Eblen