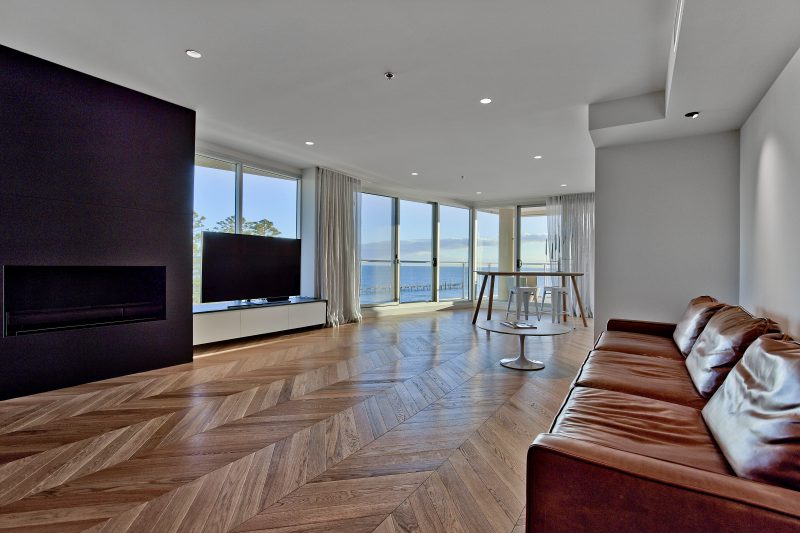 We've been a part of the most exciting home renovations Adelaide has seen, but there was just something special about this Glenelg home. Bringing together our attention to detail, expert craftsmanship and the architectural touch of Enoki, we couldn't be happier when these become award winning home improvements.
---
Upon finishing these beautiful renovations, there was no question whether or not to enter this stunning Glenelg home in to the Master Builders South Australia Excellence Awards. The cherry on top of these breathtaking results however, was being recognised by the wider building community for our work.
We are proud to announce that Duthy Homes received the 2019 Master Builders award for Excellence in Renovation or Addition ($200,000 – $400,000). This speaks wonders for all our hard work and willingness to go above and beyond to achieve nothing less than perfection.
With ecstatic owners and stunning results to show for it, we'd love to share a bit about our journey with this award winning project.
---
Glenelg Home Improvements
---
With panoramic views of the Glenelg foreshore, this exquisite Nordic inspired renovation at 612/19 Holdfast Promenade, Glenelg showcases innovativeness and a contemporary design that invigorates life back into the former 90s style interior.
Clients Peter and Elaine, consulted award winning architectural and design firm, Enoki to create a modern space that is not unlike a Scandinavian retreat. Working closely with the architects, Duthy Homes stripped back the interior to its inner shell, rewiring, re-plumbing and installing specialist 'parquetry-like' flooring that completely transformed the home.
---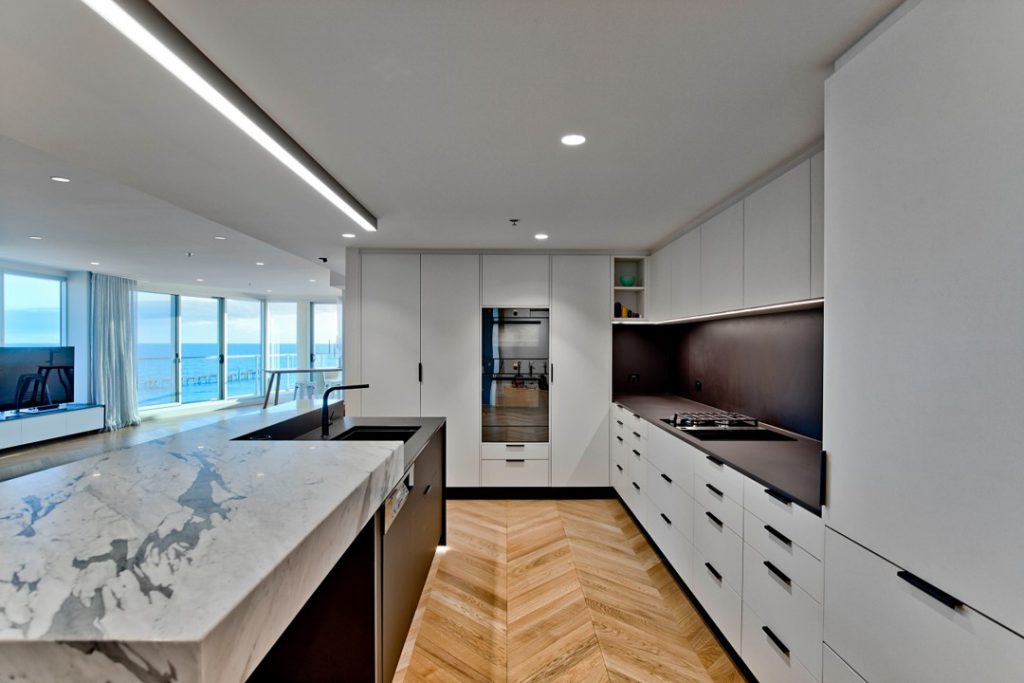 ---
Some key design features in these award winning home improvements include:
Pallido 45 degree angle Chevron timber flooring
A split level kitchen including Arabascato Marble with a honed matt finish
Dekton Porcelain panelled benchtops
An ecosmart Firebox
Cenere ceramic tile in the ensuite with a stunning freestanding bath
The building process posed many difficulties – one of the biggest being the location. Situated on the corner of an apartment building, there were no parking facilities to come and go from the job site and getting materials in and out proved problematic and time consuming. As there was no room for storage, Duthy Homes was further restricted as there was no space for waste bins. We had to hire a 3 tonne truck to remove waste daily. In order to comply with the body corporate rules and regulations, we also had to ensure that demolition was conducted on certain days to reduce noise. This became an inflexible and unavoidable part of the building process.
Despite all of this, the most challenging part to these award winning home improvements was orchestrating the installation of the half tonne Arabascato Marble benchtop for the kitchen – a benchtop that needed to be fitted in one piece. In order to avoid a significant OHS risk and injury to our workers, we coordinated the use of a crane to carefully deliver the benchtop. Working with the client and Steedform (the designer of the marble benchtop), we hauled the benchtop up six floors and through a narrow balcony balustrade opening. Thanks to our precise calculations, the benchtop made it safe and sound in the home.
---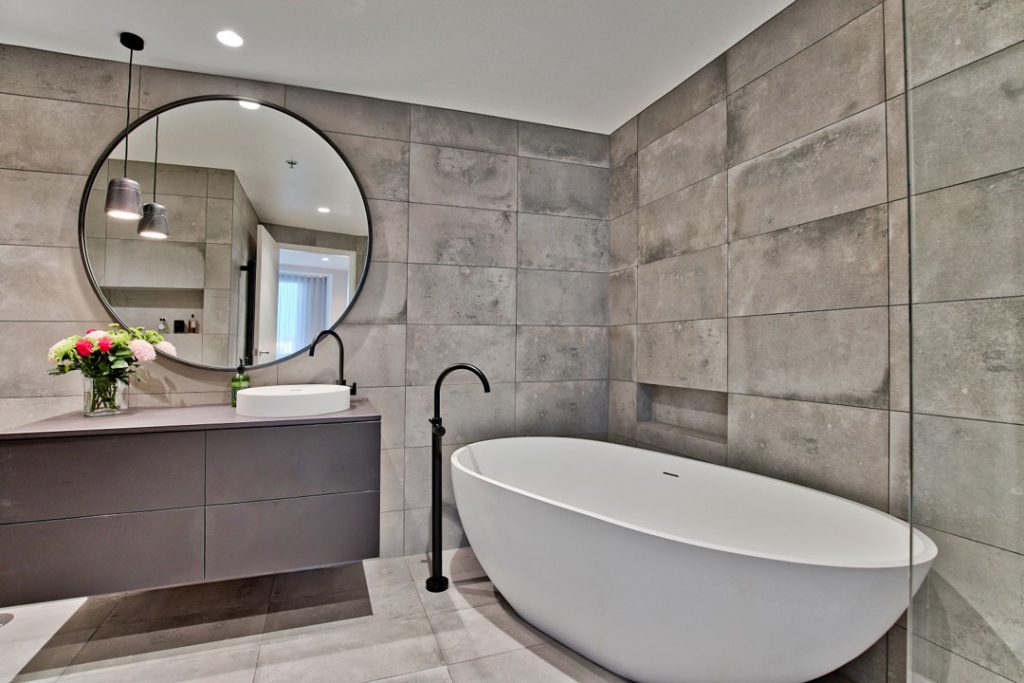 ---
As the apartment is located on a corner, unusual wall angles led to a myriad of further complications requiring meticulous care – particularly when laying the timber floor and tiles in the bathroom. The original floor in the main living areas needed to be completely demolished, levelled and 'made good'. The body corporate also required an acoustic underlay to reduce noise in the apartment building, so we needed to remove and relay the underlay and then adhere each individual piece of Chevron timber at a 45 degree angle separately. This was an extremely tedious process, but which ultimately produced an amazing result.
---
The Key to Award Winning Home Improvements
---
While there was no doubt that this process was incredibly complex and fraught with challenges, the end product is undeniably stunning and a marvel along the promenade.
All award winning home improvements are met with challenges. In fact, it's these roadblocks that make the final outcome that much more fulfilling. The key is being innovative in your problem solving and not letting those hurdles hold you back from achieving the custom built homes that homeowners dream of.