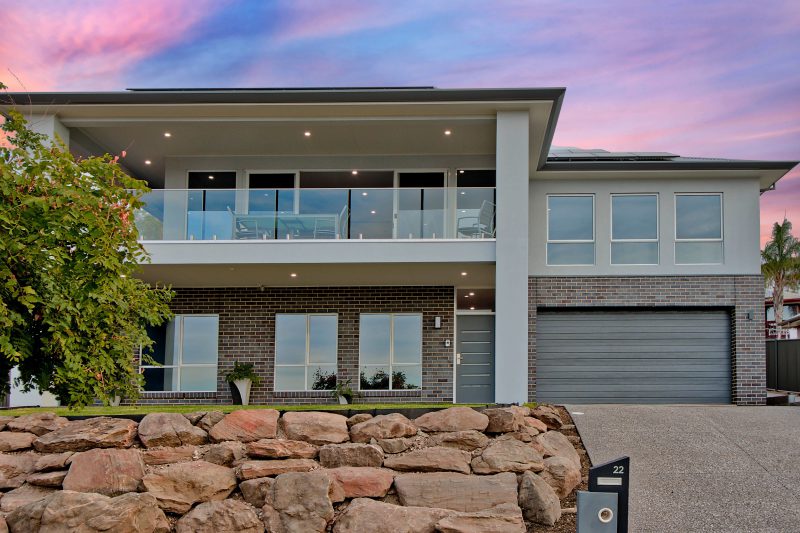 As award winning home builders, our mission is to continuously go above and beyond when it comes to creating custom built homes for the people of South Australia. This was no different when it came to the Brook's unfinished home. Having found their dream home left in an unfinished state, we took it upon ourselves to make sure that dream became a reality.
Here's a bit about our journey with Mr and Mrs Brook and how this stunning Darlington home was reborn.
---
The Brook Project: Saving Their Unfinished Home
With panoramic views from the city to the sea, nestled in the quiet suburb of Darlington, this home is the ultimate family residence.
However, the owners of this home, retirees Garry and Arlene Brook ran into strife when their dream home design project encountered numerous delays. There was excuse after excuse from their then builder and all of a sudden the building process came to a complete standstill.
They learned that all of the money they had paid upfront was gone, and the life they had dreamt of in their beautiful new home was fading fast. Unbeknown to Garry and Arlene, the builder went bankrupt, leaving foundations, upper walls and a few roof trusses blowing in the wind.
Fortunately for the couple, our company director Chris Duthy lives nearby and noticed a person taking equipment and material from the job site. Concerned for the owners of the property, Chris went over and questioned the man as to what his purpose was there. Chris soon learned that this man was Garry.
---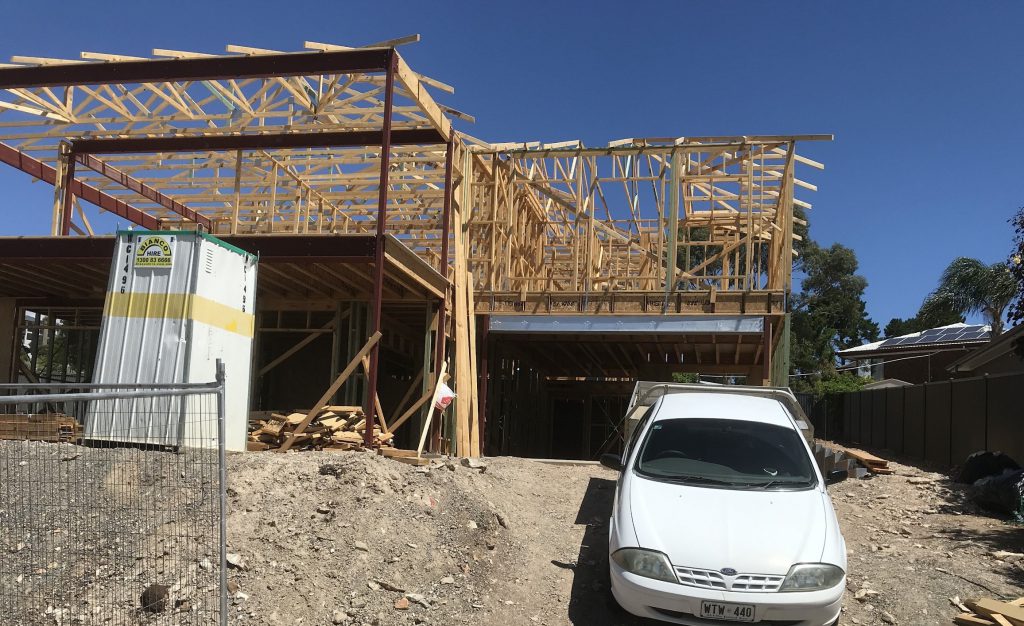 ---
Garry explained his unfortunate situation to Chris, who instantly saw a great opportunity to help a friendly neighbour. Chris quickly informed Gary that he was a builder and that he would be delighted to help complete this unfinished home.
The couple were incredibly stressed, having had no prior warning of the former builder's financial status. Despite a limit of $150,000 on their Builders Warranty insurance, they decided to continue, entrusting our Adelaide home builders to finish building their luxury two story home.
---
Time To Complete This Unfinished Home
Within a few days we received the home plans, tendered for the project and met with the couple to discuss the quote. Whilst our price was mid-range, Garry and Arlene felt confident in choosing Duthy Homes. Chris' integrity when questioning Garry as a suspected thief displayed an honesty that was unheard of with their previous builders. Building commenced the week the contract was signed.
The previous builder had completed the first fix carpentry, but the framework of the build was in average condition. The retaining walls had been completed, but there was timber everywhere that had been exposed to the elements and needed to be thrown away. As the former contractors had not been paid, the quality of work was lacking, and this unfinished home was not in great shape. Duthy Homes needed to review the work that had been done to ensure everything met the highest quality standards.
The build started in early March and by Easter, a roof, windows and bricking were all complete. By September the clients had the keys and were ready to move in. The clients said that they wished they worked with Duthy Homes from the start, as they got finishes, bulkheads and square set ceilings that they would not have had otherwise. Garry and Arlene were ecstatic, and it was clear to them why we're award winning home builders.
---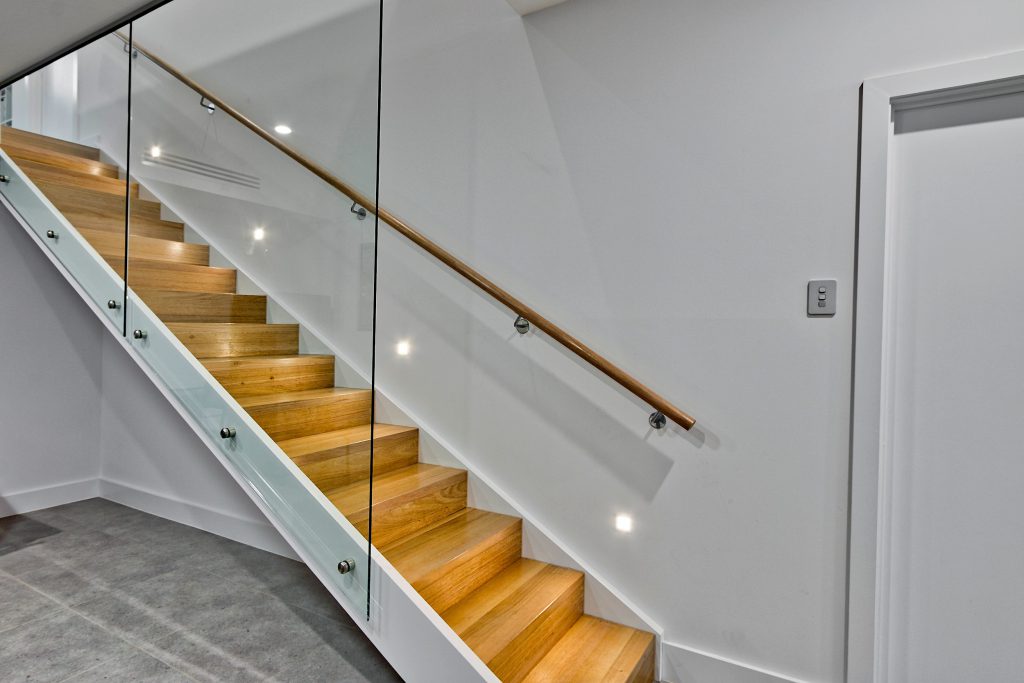 ---
Adding Our Finishing Touches
The original plans for the unfinished home were generic and basic in terms of home design. As a small building company, we were able to provide a bespoke service with innovative, contemporary and highly sought ideas for their new home; ideas that they otherwise would not have received from the previous builder.
We attained competitive quotes for joinery and our contractor, Complete Kitchens, installed a kitchen that resulted in significant savings on trades. Upgrading where we could,we worked closely with our subcontractors. Revolution Roofing installed Mosman gutters for a more modern profile, FD Electrical explored LED lighting options that were not on the original plan, and our carpenters created blind boxes that recessed the blinds.
By gaining the client's trust and educating them on more modern features we were able to include innovative ways of minimising certain aspects of the home. As a results, we helped them create a timeless home design that demonstrates why we're award winning home builders.
---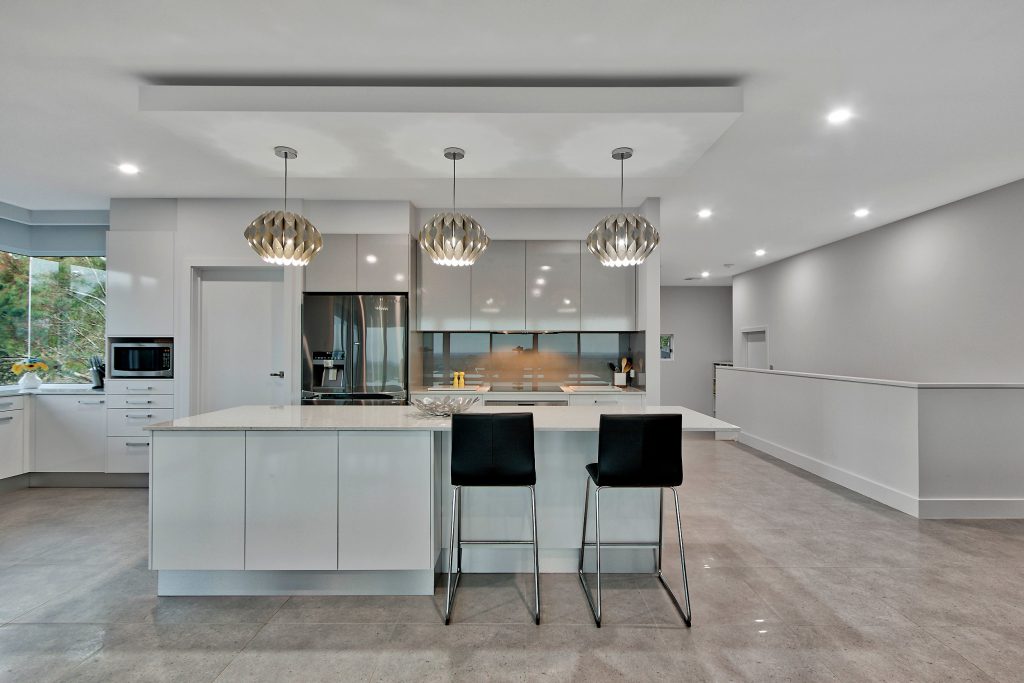 ---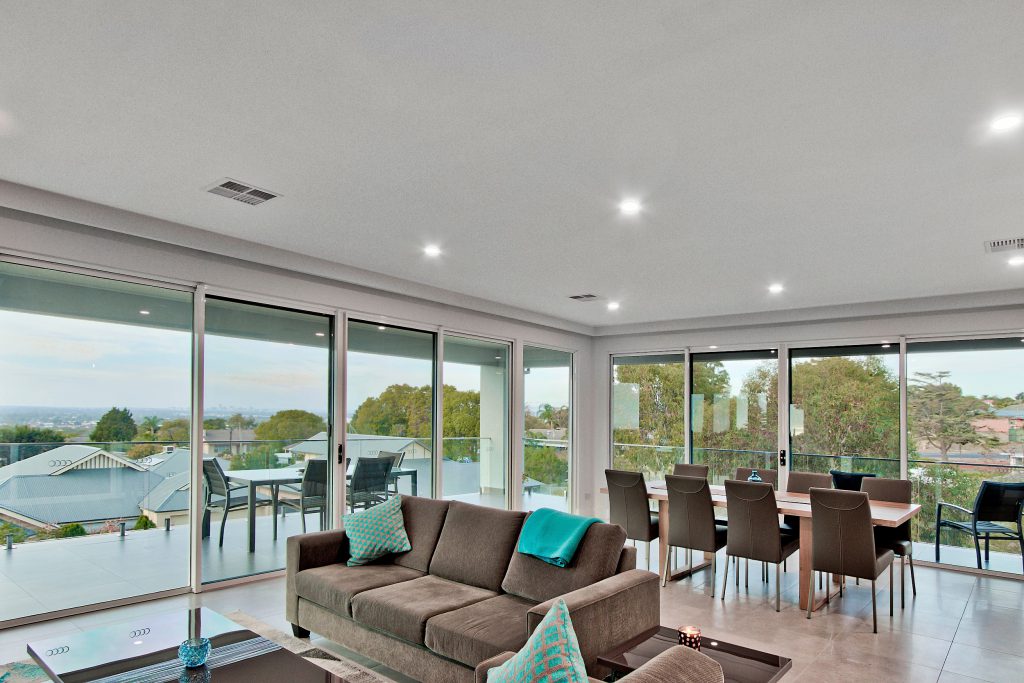 ---
Adelaide Home Builders Who Care
While we are proud to be recognised for our excellence in building, this is a story of building excellence in customer service through honesty and integrity. The Brook's had ran out of time and money, and were almost ready to give up on their dream custom home. However, amidst the stress, anger and disbelief, Duthy Homes became their dream come true.
Yes we are pretty handy with the tools and we think outside the box in our designs, but importantly – we build stunning, inspiring,finished homes. We will always remain honest and open with our clients no matter the circumstance, because above all we value integrity in our service.
Beyond the custom built homes and renovations Adelaide residents love, we pride ourselves on always putting the owners first. Your best interests are always on our minds and we strive to create excellent homes so you can enjoy a happy and memorable life living in it.
Are you thinking of building your custom home? Perhaps you're renovating or even considering buying an unfinished home? No matter your dream, Duthy Homes can help make it a reality. Contact us today to get started.