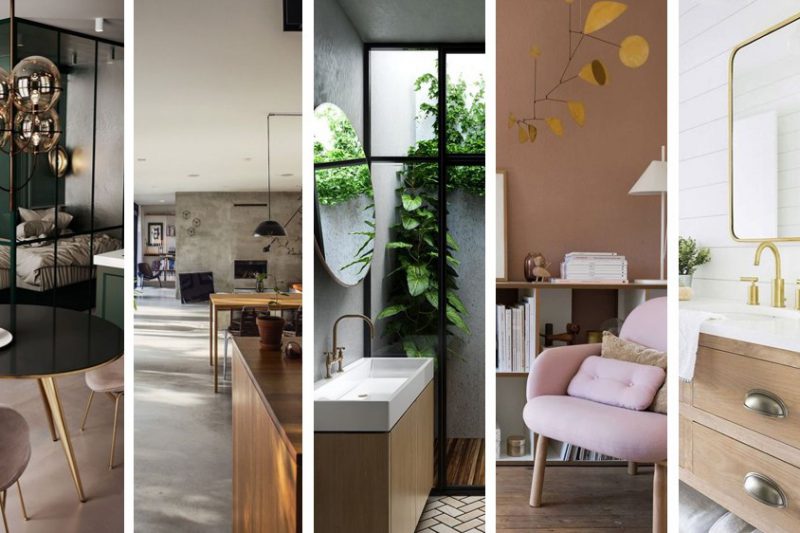 If you're in the process of designing or renovating your home, then here's a rundown of the top five 2019 home design trends. From furnishings, to fabrics, to fixtures, 2019 is all about minimalism and sustainability. Less is more and the key is in choosing classic pieces that will last for years to come, rather than ones you'll get tired of quickly.
Last year, it was rose gold, millennial pink, exposed lighting and subway tiles, however this year is taking on a much more natural feel that is all about freedom of style. 2019 is blurring the lines between the ins and outs, the old and the new, and what was once considered wrong, is now very right. Let these hot 2019 trends inspire your custom home design today.
---
Our Rundown of the Top 2019 Home Design Trends
---
1. Art Deco Meets Mid Century Modern
When art deco met mid century modern, we may have cried with joy a little. For too long, art deco has patiently waited on the sidelines, however 2019 is the year it takes the spotlight. Blending our love for art deco with mid century modern is all about sleek lines, tapered furniture legs and understated simplicity with a touch of art deco detail. Think velvet furnishings, bar carts and artisanal pendant lights.
Build your space around mid century modern essentials and accent with glamorous decor. Keep the colour palette limited to a select few colours to keep the focus on the opulent accents and bold shapes. This also speaks to 2019's overall love for simplicity, and while you may be thinking simple does not work with glamour – trust us, it can. This trend is all about the careful selection of pieces, colours and placement.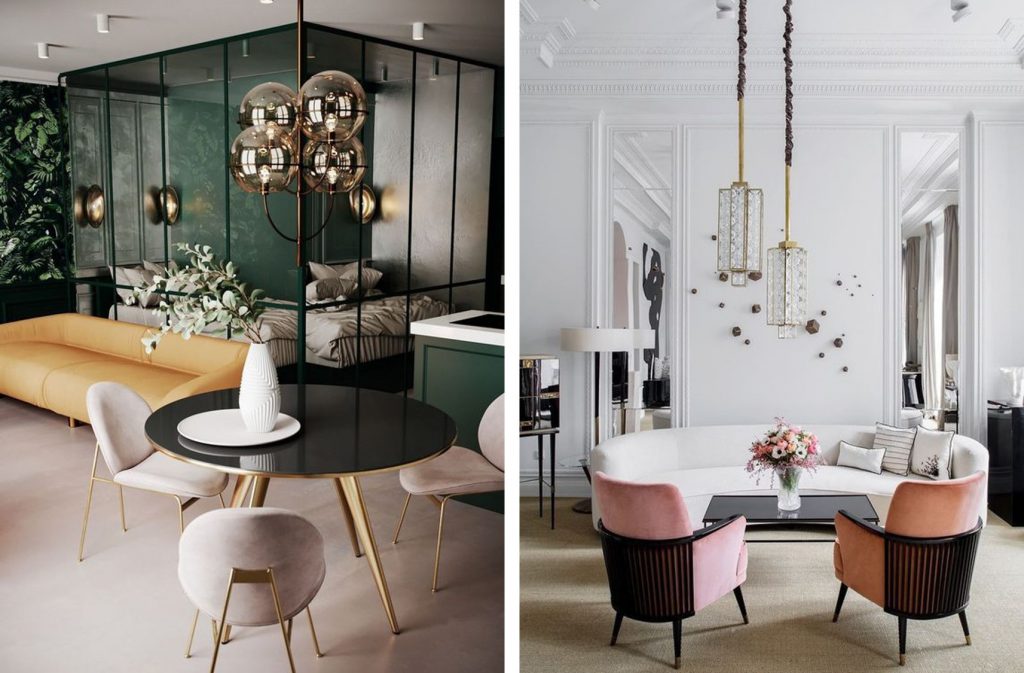 ---
2. Less is More: Sustainable and Natural Finishes
Sustainable and natural finishes are key when it comes to 2019 home design trends. The idea that less is more speaks to the minimalist lifestyle we all crave. Retreat to simplicity after busy working days and the crazy of the outside world. The beauty of minimalism is that it's future proof, timeless – with less 'stuff' in your home, there is less 'stuff' to become dated.
Channel minimalism through sustainable and natural finishes. From a building perspective, choose natural materials such as stone, concrete, wood and granite for your floors and counters. From a decor perspective, work in natural elements such as cotton, wool and linen through your upholstery, throws and cushions. Bringing an organic feel to your home will work across many living home styles, from boho, to scandi, French country and even mid modern century. It's all in the (fewer) choices you make.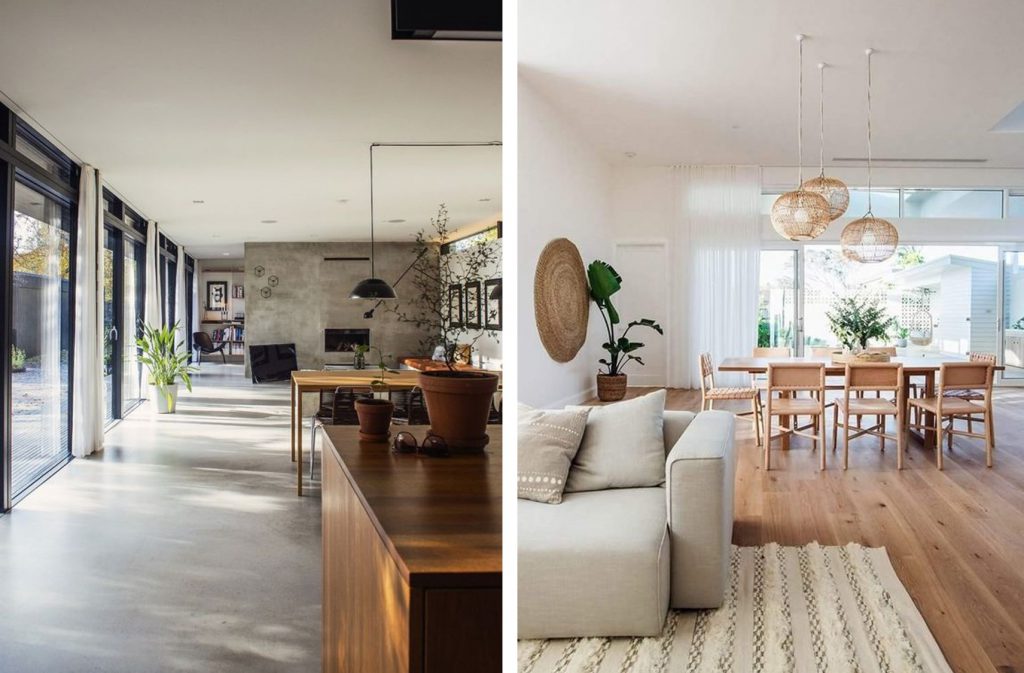 ---
3. Biophilia
Bringing the outdoors to the indoors is going beyond a few indoor plants here and there in 2019. An increasing interest in biophilia – highlighting the relationship between nature and humanity – has transformed the way we are thinking about home design and building. 2019 home design trends are blurring the lines between nature and the living room.
More homes are including kitchen designs that open to the outdoors, foliage textured wallpaper, bigger, greener indoor plants and spaces that focus around leafy green features. You can tone this vibe down with some biophilia inspired art or sticking to the indoor plants – either way you're bringing life into your home.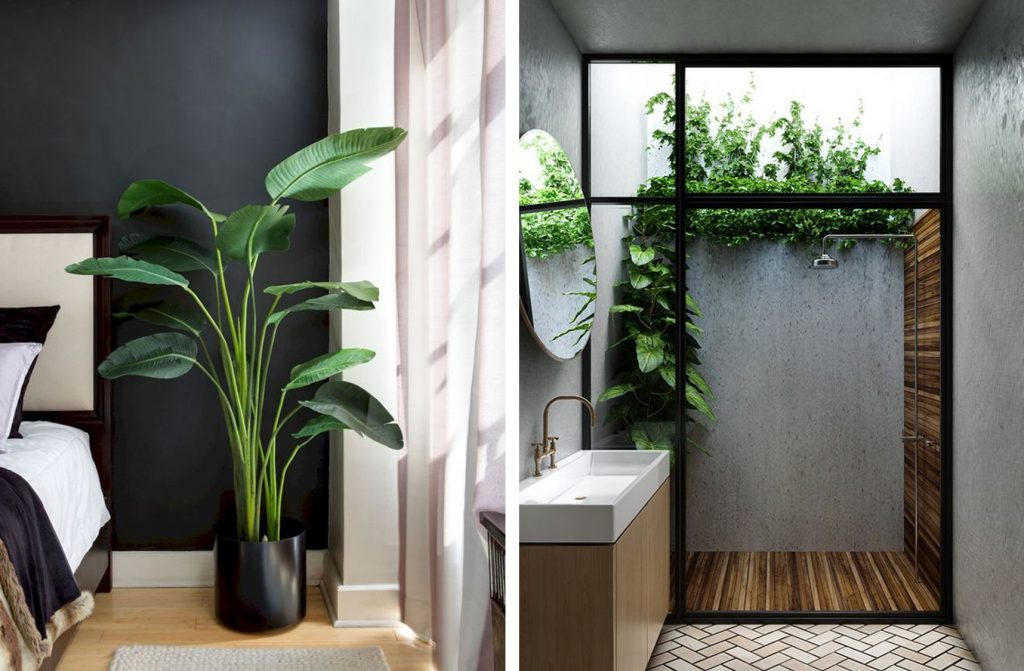 ---
4. Soft Blush Tones
It looks like millennial pink is here to stay for yet another year, and we aren't mad about that. Splashes of the dusty pink hue are popping up everywhere in interior design and home decor. From cushions, rugs and chairs, to dining table decor. Rosey neutrals are loved for their calming effect, perfect for creating effortlessly peaceful living spaces.
Beautiful with creams, greens and bright whites, soft blush tones may seem quite an out there colour choice, however being a pastel colour that works well with such neutral colour pallets makes it a timeless classic. Looking beautiful against green also means this colour works well with the biophilia trend. Splashes of pink amongst green foliage make for a fun, vibrant home that is relaxing and calming at the same time.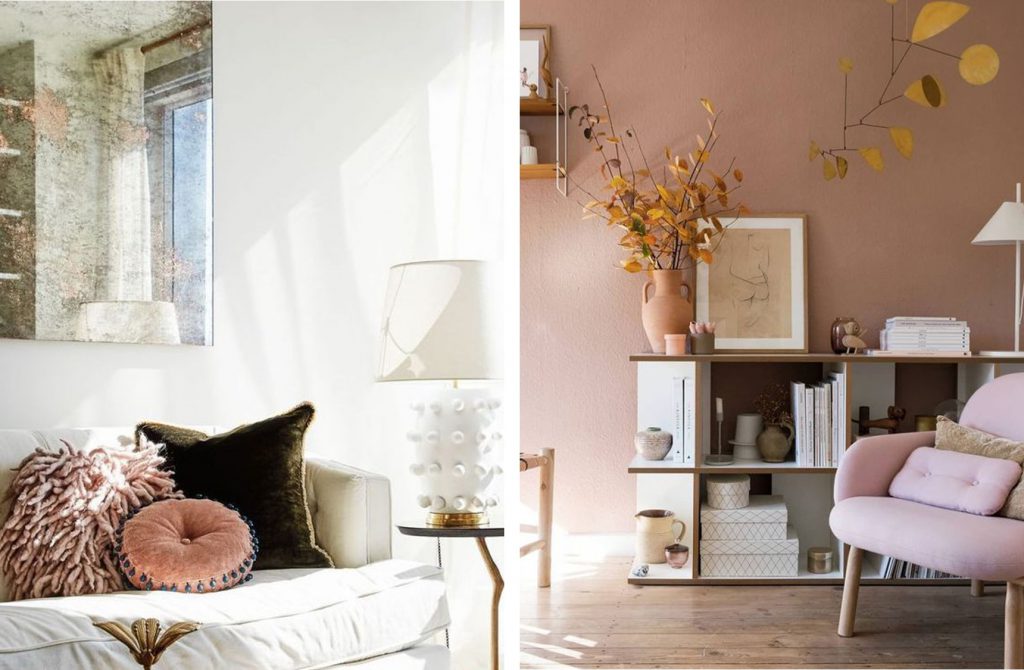 ---
5. Mixed Metals
Gone are the days where matching is essential. In 2019 home design trends are all about mixing metals. Brass, gold, copper – why can't they be used all at the same time? Designers today are becoming more flexible with their hardware and fixtures, welcoming brass knobs on cabinets with polished nickel faucets.
Playing with warm and cool tones is what makes this trend work so well. Choosing a collection of metals that fuse with the colour pallet of the space will disguise obvious clashes, as each metal will instead match with other elements in the room. Incorporating various metals in your home also makes re-designing easier. Avoid the stress of searching for a new sink tap that matches perfectly with your current door-knob, and enjoy the freedom of choosing something just because you like it.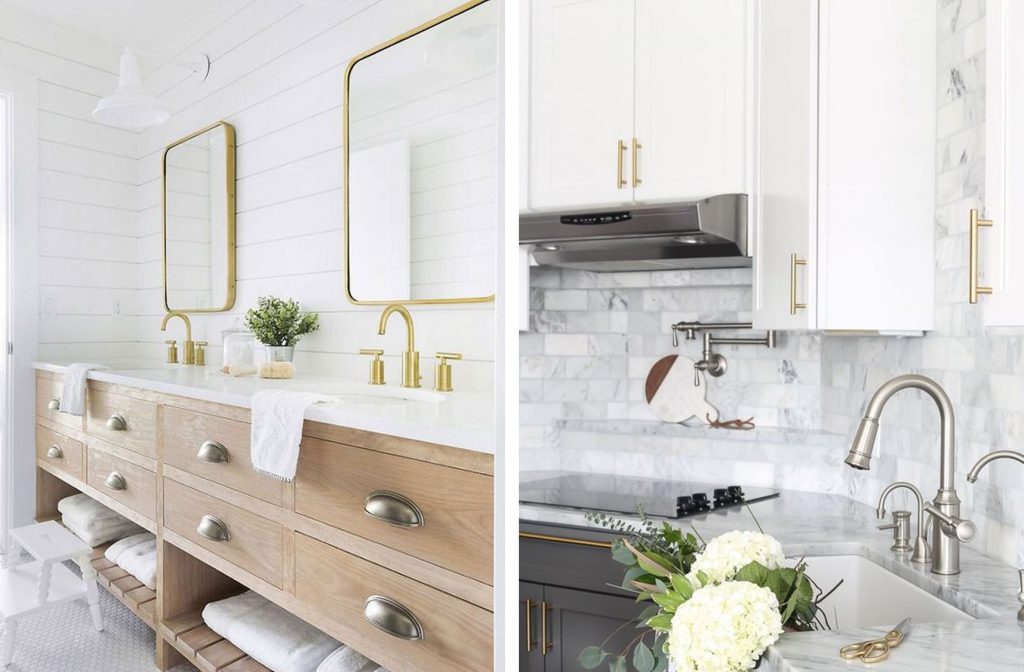 ---
As we've worked through these home and interior design trends, you can see how they can easily be blended into the other. Choose millennial pink furnishings as your art deco accents. Bring the outdoors, indoors and emphasise a fresher, sustainable home. 2019 is a year for creating homes that will stand the test of time and never cease to amaze. If we have inspired ideas for your dream custom built home then let's start making that dream a reality. Our home building process lets you take the wheel in creating the home you want. Contact Duthy Homes today.